Make Her feel Special
Woman longs and craves for love. She loves to love her partner, pamper him, and expects her soul mate to reciprocate the same treatment to her. She wants and needs to f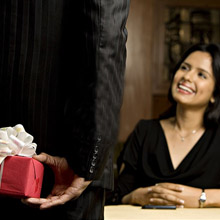 eel special. She wants enough attention and longs to be showered with all the love possible.
Surprise her with gifts
To love and be loved is what girls' yearn for. Pampering them with small gifts will simply melt her heart and increase her love for you manifold. You can make it further special by choosing on gifts which has at some portion of her life some significance. It doesn't have to be expensive; rather it is the thoughts that count.
Be a good listener
Girls love to talk. Unlike man, they do talking to let out their feelings and thoughts. They are not seeking a solution when they talk things. They are just thinking aloud, and all they need is someone to listen to. Be that medium. Nod your head, listen to her attentively, and assure her you're listening to everything she is saying loud and clear.
Compliment her
If the way's to a man's heart is through his stomach, then for a girl it is through to genuine compliments. A compliment that is true of her, overdoing it will also lose its value. Besides, the possibility that she be suspecting of such unfavourable intention is likely.
Avoid certain things
As there are things that will melt the heart of a girl, there are things as well that will not be appreciated and find amusing. Calling her without giving her a break to express how much you miss her is an absolutely no. Even forwarding her romantic sms on a frequent basis will lose the value. Do not buy gifts often; it will destroy its charms.
Problems & solutions in married life