Accessories for the Groom
It is simply clear that on wedding days the bride is the center of attraction. The groom also has to get polished his overall appearance. A groom cannot be called complete without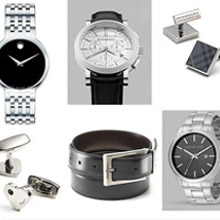 the usual accessories. The urge to look better and highly refined and presentable have come to occupy a grooms as well.
Shoes: Shoes should generally be made of leather. Wearing a suit or sherwani, looks the best along with formal shoes that are highly polished. Black and brown are the best options, but the suit and other dresses have to be taken into account while considering the shoes colour. A Kurta is compatible with sandals while ethnic wears, are best with "jutis" of neutral tones and handcrafted embroidery.
Jewellery: For Indian wedding, wedding rings have much significance and importance. It can range from a simple gold band to a gold ring studded with diamonds. Other jewelry may include bracelets, simple chains and gold kadas.
Belts: This one is another that no man would dare not to love and hold dear. Good quality leather belts that are simple and have a sleek buckle are more than enough to make a longing for possessing it.
Ties: A tie that would blend with the suit is the best. Wearing bright coloured ties however and generally doesn't match with the shirt you wear.
Pagri: Pagri is a traditional Indian turban that is worn alongside sherwanis, churidar kurtas, and jodhpuris. A pagri enhances the total look and the personality of the groom.
Cufflinks: Goes along with the western as well as traditional suit. Some good choices of cufflinks would be like stones like mother of pearl, pure silver and gold cufflinks.
Right accessories add to the overall appearance of the groom and help him stand out among the crowds to affirm that he is the man of the day.
Problems & solutions in married life